Remote Sites
---
Click this link for information about using Aware Electronics Software to auto-generate graphs:
Aware Electronics Graphs
---
Remote site at Chadds Ford PA using our new transfer over internet software by-way-of aw-el.com's internet server:

Chadds Ford PA
---
Click here to see real-time data auto-uploaded to COSM - Pachube by Aware's Aw-Radw program:

Aw-Radw auto-feeding real-time data to COSM - Pachube
Note COSM recently changed their name to xively and now Internet Explorer doesn't display the graphs.
With Google Chrome, the graphs display but only if one clicks Channel "1" or "2".
Click this link for information about using Aware Electronics Software to auto-push data to COSM - Pachube:

Using Aware Electronics Aw-Radw for Pushing Data to COSM - Pachube
---
Remote site at Vashon Island (Seattle WA):

Vashon Island (Seattle WA)
---
Tokyo Japan Time


---
Up to the minute Tokyo (Meguro ku) radiation levels (RM-80 data) from: altTokyo.com Community:

March 15th Data:

altTokyo.com Community
---
Denphone Tokyo Office Geiger Counter:

One week reading:

24 hours reading:

3/22/2011 - 3/23/2011 increase followed by decay curve with ~8 day half-life (Iodine-131):

3/20/2011 - 3/23/2011 includes two increases:


(Note 1µSv = 100µR standardized to Cesium 137)
3/16/2011 - 3/22/2011 The first increase decaying followed by two increases:

Tokyo Geiger Counter, Japan - Huw Williams, president of Denphone, a IT company in Tokyo, explains how he monitors the radiation levels on his PC screen with the geiger counter that he has placed outside of his office window n downtown Tokyo, March 23, 2011. Radiation fears still remain among the people in Tokyo as Japan continues to battle the nuclear crisis. (Photo by Christopher Jue/AFLO):

Click this link for more graphs:

Denphone Tokyo Office Geiger Counter
---
Updates from:

Akio Hasegawa, M.D., PhD
Pathologist
Odawara, Kanagawa, Japan
(Aware Electronics customer from the 1990s)

Akio mentions:

"Odawara is situated 290 km south west to Fukushima Nuclear facility"
"Normal range, depending on the location and altutude: 10-25µR/hr."
"In a jet at 30,000feet, it might be 300µR/hr"

Bunkyo-ku, Tokyo:

For more updates, refer to Dr.Hasegawa's page entitled:

Monitoring of µRoentgen Background Radiation in Japan.
---
Radiation Monitor Yokohama, Tsuzuki-ku Japan Ambient dose rate (gamma) using an RM-60, Aware's USB-MSP and Aw-Radw:


Bernd Nurmberger's Yokohama site
---
From Allan's Warrimoo, New South Wales, Australia Website includes RM-80 data:

Allan's Website
---
From UnkaJim's Website in Sugartown, Oregon:

UnkaJim's Website
---
Ron Fleshman's (KB2VIV) site in Schnectady NY includes these cool graphs:

Ron Fleshman's (KB2VIV) site
---
Here is a very cool site at Weiningen, Zürich, Switzerland.

"For the monitoring of nuclear radiation environment here at the station site in Weiningen (ZH) is a RM-80 dose rate meter from Aware Electronics is used.

"These units of RM series are used by various universities, professional bodies, and amateur stations are common to U.S. standards 2 tested and calibrated. The device can measure both alpha and beta, as well as gamma and X-rays.

"The meter is located along with the noise meter outside the building from rain and moisture under the roof in a protective box. There is no particular fan used to suck air to the alpha window (the unshielded part of the Geiger counter) is freely accessible and shows off the building.

"Every 60 seconds, the RM-80 transmits the measured values obtained by cable to the server station.

"The data are processed by the analysis software Aw Radw and as, among other things. Txt file saved. This text file is then transferred via FTP to the web server and wrote from there in a SQL database. No later than 5 minutes after their acquisition, the data can be accessed through our website. Displayed by default, the data from the last 60 minutes of the day, the last 24 hours, the current month and the current year.


Click the following link to check out the interesting interactive Flash radiation data graph:

Radioactive environment. Last 24 hours. Weiningen, Zürich, Switzerland
(Note: Station is relocating)
---
A site in Montsevelier, Val Terbi, Switzerland using an RM-80:


Radioactivity at Montsevelier, Val Terbi

---
Another site in Switzerland using an RM-80 with a very cool Flash graph:

Observations at Sedrun Switzerland 1402 m above sea level
---
Del Winiecki's Rimrock Arizona site:

Del Winiecki's Weekly Radon Levels in Electronics Lab:

Del's Radon site
Batch file information that helped Del setup the site:

Text file includes batch file info.
---
A site on the Olympic Peninsula, Sequim, Washington:

Sequim Radiation Level Monitor
A site in Chapel Hill, NC:

Rik Faith's site
A site in North San Diego County, CA:

The LXT Group
A site in Rosman, NC:


Pisgah Astronomical Research Institute
Edmund Korffmann's real-time site in Rohrheim Germany as part of his on-line weather station.
Edmund mentions in an E-Mail: "The new software (Aw-Radw) works perfect together with my weatherstation and the thunderstorm detection system. I use the ASCII output of the programm to create realtime graphs for my homepage using jpgraph a very easy to handle PHP script. (Note: European Date-Time format Day/Month/Year)

WebRad Page
Additional sites in Germany:

Traugott Häuselmann
Netphen Dreis-Tiefenbach
Karlsruhe
Cuxhaven
Patrick Edelmann's Johannesberg, Unterfranken site
(Click Radioaktivitat(Ubersicht) then one of these: Radioaktivität ( Std. / 24 Std. / Tag / Monat / Jahr)

Oslo Norway:

Steinar Midtskogen's site

Another two years have passed and the sensors are still working. The filters have not been changed. One of the sensors was recently tested side by side with Radon Scout+, which costs 20 times a much. The results:


Radon Scout+ (blue line) reported an average of 206 Bq/m³. My sensor (red line) also reported 206 Bq/m³. This might be a lucky coincident, but it's still reassuring that the accuracy seems good. We can also see that the sensors generally report the same trends, but the data from my sensor appear much smoother and don't appear to pick up all the smaller fluctuations reported by Radon Scout+ (assuming that those are real changes and not noise). Perhaps the reason is that my sensor traps dust and once trapped, the radioactivity will remain for a while even if the air gets replaced. So it will respond a bit slow to actual changes. Anyway, the close similarities between Radon Scout+ and my sensor are reassuring and strongly suggest that the short time trends picked up by my sensors are real. During short tests (a few days or weeks) with Ramon 2.2 there have been differences, and I'm now inclined to think that this is due to inaccuracies in Ramon 2.2 rather than in mine. Ramon 2.2 (which I did use for calibration) seems to require several weeks of operation before the average can be fully trusted.
Steinar Midtskogen's 1-wire and radon
Steinar also has an RM-G90 in his attic and notices a strong correlation between gamma levels and precipitation:

Steinar's Precipitation and Gamma Radiation
Washington DC area:

Zeissler
Meteozone near Washington DC:


Meteozone
Forsyth Missouri:


Forsyth Missouri's Xively Site
Mckimzey's NF3V Havertown PA site uses an RM-80: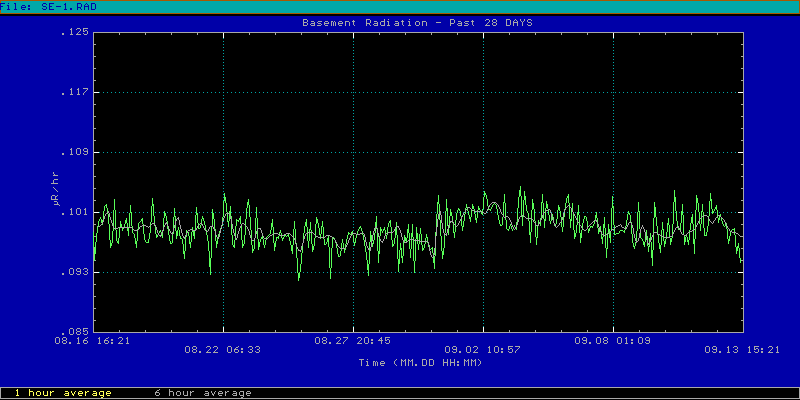 Mckimzey.com's graph creating batch file
Radiation Monitoring From Somerset, Ca 95684:

Frank's WA6BTH site
Lumby, a small village in the southern interior of British Columbia, Canada:

Lumby Watch
Latham, New York, a hamlet of the Town of Colonie, located north of Albany:

Latham, New York site
---
It's easy to setup Aware's window program Aw-Radw to automatically push data to radmon.org site.
RADMON.ORG
E-mail us for help. Aware Electronics on Radmon.org:

---
A "Dark Wizard" site near New Orleans?:

New Orleans?
A site east of Manhattan in New York City:

Jason Buchanan's site
A "Glow in the Dark Goodness" site in Florida:

Florida site
A site in Tuusula Finland:

Otso Laakso's site
A site in The Gallops / Dublin 18 / Ireland:

rad.larryo.org
---
---
Recent solar storm observations:

Aware Electronics RM-G90 Gamma plot from Norway:

---
Steinar Midtskogen's site
---
Four Day Muon Flux Count from St. Croix, U.S.V.I. from 012312 to 012712 Shows an Increase during the Solar Storm:


James Petrait's site
---
GOES13 Satellite Proton Flux:

---
Here is a remote site composed of an RM-60, HP Palmtop PC and modem with data displayed on our server updated once per 8 hours by-way-of our Aw-Fetch program. (More info about this site is found below).

New York City
Windows XP RAS Server (Remote Access Server) An example of our newly developed micro RAS RM Server (size of a small toaster oven) equipped with nforce4 MB with heatpipes and SATA drive. Two built in serial ports and a PCI eight port board make 10 serial ports. One of the serial ports is plugged into an external US Robotics modem. Eight of our RM-60 radiation monitors are plugged into eight of the serial ports. Three of our 12 to 24 volt strobe light warning systems are plugged into the same RM serial ports they alarm from. If the PC reboots the software starts up automatically. PMI-30 NaI monitoring is to be added. For the interest of viewers every day or so our office PC phones the server, updates its copies of the rad data using Aw-Trace, prepares the graphs then FTPs the gifs to our web server, at least until the system is moved. At present it is near radiologic services and the peaks show very low normal levels due to operations:

Aw-el.com/umdnj
A real-time site running our Aw-Radw Windows progam on a server in New Jersey. Note: Site will load only when UMDNJ allows internet access. (More info about this site is found below)

UMDNJ's server site
---
More about the real-time site on a server in New Jersey:

UMDNJ's server site
The above site is running on a server acting as a local server and an internet server and which is also running Aware Electronics software. The Aware Electronics software is composed of our 32 bit windows program Aw-Radw which, besides collecting the radiation data from the RM-60, once every two minutes automatically updates the graphs as seen on the website. See Aw-Radw Questions for more info. about using Aw-Radw to generate real-time graphs on servers for browsers.
More about the remote real-time site with data displayed on our server:

New York City
This New York City site has been running continuously for over five years (almost three years before 9/11) without human intervention. It includes an HP 1000CX palmtop PC (a less expensive version of the HP 200LX palmtop PC), a PCMCIA modem and an RM-60. The palmtop PC is running our standard radiation collection software and our Aw-Fetch communications program, which are loaded automatically when the PC reboots. The modem is plugged into a phone line and our Wilmington DE PC automatically contacts the site using our Aw-Fetch program running in batch mode, updates its copy of the real-time radiation data, prepares the data and graphs using Aw-Graph's GIF feature in batch mode, then FTPs the information to our website.
The RM-60 and palmtop PC are located in a lower level office of the Jacobi Hospital, Nuclear Medicine division. Various small spikes in radiation level can be seen on the graphs as staff carry-out normal day-to-day activities.
---
Schematic representation of remote and base components of the AW-FETCH - GM monitoring system. Continuous data from the remote computer may be uploaded to 1 or more base computers using an intermittent telephone connection between modems (dashed line).
---
Remote GM system. Overall dimensions of the compact detector and palmtop computer are 11.18 x 6.20 x 2.69 cm and 16 x 8.64 x 2.54 cm respectively. Modem card, inserted into the built-in PCMCIA slot at the left of the computer, is attached to a telephone cable and "Y" telephone line splitter. Typical AW-SRAD data, in bar-graph format, appears on the palmtop screen.
---
Report About Development of a Real-Time Radiological Area Monitoring Network for Emergency Response at Lawrence Livermore National Laboratory
A PASSIVE real-time radiation area monitoring network (RTRAM) was installed at Lawrence Livermore National Laboratory (LLNL)
A Low-Cost, Real-Time Network for Radiological Monitoring Around Nuclear Facilities
---
Aware Electronics can provide complete remote radiation monitoring for display on the Internet.
This service is excellent for any private or public group that desires a secure real-time website display of radiation levels.
We can provide all that is neccesary, including our standard set of highly efficient Windows software along with custom scripts, to allow real time data and graphing of an unlimited number of radiation monitoring sites, completely contained within the clients set of networked PCs. Aware Electronics has experience setting up such systems and they have proven to be highly reliable and accurate.
Alternatively we can provide remote radiation data gathering sites that communicate with the client's (or our) server for display of the data on the internet or the client's private network, by-way-of the telephone system, as indicated in the diagrams above regarding the Bronx site, or by CSM modem.
A GSM modem is a specialized type of modem which accepts a cellular phone SIM card, and operates over a subscription to a cellular mobile operator, just like a cellular mobile phone. From the mobile operator perspective, a GSM modem looks just like a cellular phone.
Equipping the LCD-90 with a GSM cellular modem
If you or your client decide to try this service we are certain you will be very pleased with the results.